Tuesday, May 19, 2020, 7:25 pm News Flash Archive
Greenwood police say that no arrest has been made in the hit and run incident that left a 78 year old man lying in the street next to the Crystal Grill last Saturday.
According to Deputy Chief Marvin Hammond, a white Chrysler 200 vehicle hit the victim as he was crossing the street at the corner of Carrollton Avenue and Lamar Street. Hammond told The Taxpayers Channel that police are still trying to locate the driver and vehicle. The injured pedestrian was first transported to the Greenwood Leflore Hospital.
The pedestrian, James Robert Jeffries of Brandon, was in town working on an airplane, according to his granddaughter, Emily Wicks.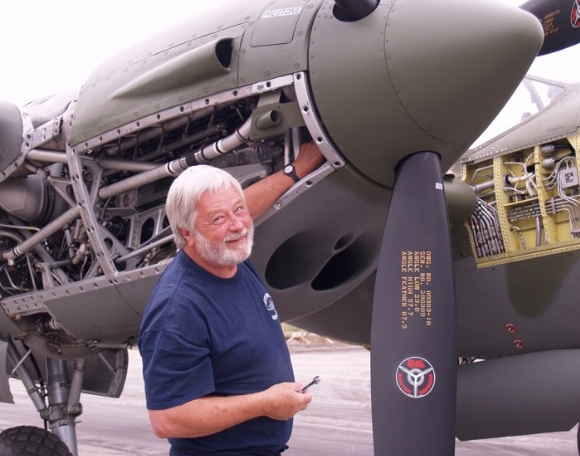 Jim Jeffries at work
Mrs. Wicks said that her grandfather, called "Jim" by his friends, was thrown up into the air before falling to the pavement, crushing his femur (the thigh bone). "He's lucky to be alive," she told us.
According to Wicks, Mr. Jeffries is now at UMMC in Jackson, where he is in great pain. His injuries will require surgeries, and the family is concerned that he may have a slow recovery.
Mr. Jeffries operates the Jim Jeffries Airworks Company based in Brandon, Mississippi. His work involves on-site propeller balancing and engine vibration analysis. It is necessary that propeller-powered aircraft have carefully balanced blades to minimize engine and frame vibration. He has had the opportunity to service a wide variety of classic aircraft. Pictures of Mr. Jeffries and his aircraft work may be viewed here: Jim Jeffries Airworks Company.
According to a Facebook post by Debbie Peacock, a Crystal Grill employee, the incident was captured on their security camera system. According to one witness, the hit and run incident took place around lunch time Saturday.
Mrs. Wicks stated that the police told the family that there were three street cameras that caught the incident, but that they had not been able to obtain a car tag for the perpetrator's vehicle.
Mrs. Wicks said that the family was not allowed to visit Mr. Jeffries like they want to, because of the COVID-19 lockdown at the UMMC hospital. However, she is hoping to see him this weekend.
"We just want whoever did this to be brought to justice," Emily Wicks stated.

John Pittman Hey
The Taxpayers Channel

News Flash Archive