Tuesday, October 4, 2022, 5:55 pm News Flash Archive
The Greenwood Leflore Hospital this afternoon publicly announced the permanent closure of its labor and delivery unit.
This follows the previous announcement by CEO Gary Marchand on September 1st that the Labor and Delivery unit would "remain closed" following the sewer backup problem in August. At that time, Marchand stated that GLH did not have the necessary skilled staffing to continue to run the unit in a safe manner. To view our previous coverage of this and other closures, see here: GLH announces UMMC has made an offer to take over hospital services; more closures, layoffs announced
But today, the closure was publicly made permanent. The announcement was posted on GLH's website, as well as its Facebook social media page: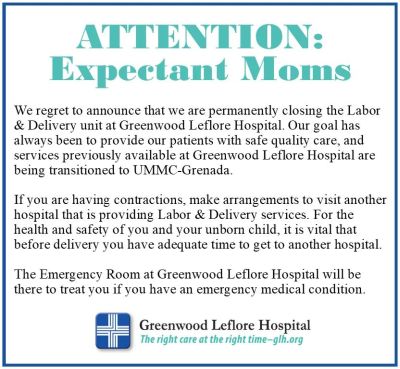 ATTENTION:

Expectant Moms

We regret to announce that we are permanently closing the Labor & Delivery unit at Greenwood Leflore Hospital. Our goal has always been to provide our patients with safe quality care, and services previously available at Greenwood Leflore Hospital are being transitioned to UMMC-Grenada.

If you are having contractions, make arrangements to visit another hospital that is providing Labor & Delivery services. For the health and safety of you and your unborn child, it is vital that before delivery you have adequate time to get to another hospital.

The Emergency Room at Greenwood Leflore Hospital will be there to treat you if you have an emergency medical condition.
Though GLH had not been explicit with the public about its plans to permanently cease providing labor and delivery services, it had been clearly stated since the first week of September in memoranda circulated by Gary Marchand to hospital employees and the medical staff.
For example, on September 9, Marchand's memorandum stated:
As we shared with you last week, we have exited the Labor & Delivery service line as part of our Viability Plan. We have coordinated early transition discussions with UMMC on this service line. This process will occur on a separate timeline than the lease negotiations. Discussions to date have involved securing continuing access to physician and clinic services for residents of the service area. At this time, we do expect most, if not all, of our staff will be offered positions in a Greenwood based clinic. Similarly, we have coordinated early transition opportunities for the physicians in this service line.
The September 9th memorandum may be viewed here: Weekly Update - RFP Response for September 9, 2022
The clear implication of this announcement is that, if UMMC finally does lease the hospital and run it, it will not provide labor and delivery services in Greenwood. It appears that GLH and UMMC intend to move all labor and deliver services from Greenwood to UMMC Grenada.
To review our reporting on GLH and its financial woes, please see here: Index of Greenwood Leflore Hospital news articles

John Pittman Hey
The Taxpayers Channel

News Flash Archive