Wednesday, June 24, 2020, 5:15 pm News Flash Archive
Last Friday, Greenwood Leflore Hospital announced it is permanently closing its satellite clinics in Kilmichael, Lexington, and Sumner.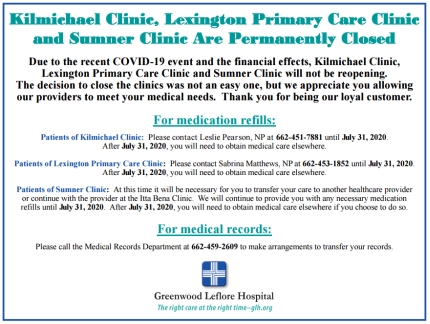 GLH Clinic Closure Announcement posted June 19, 2020
According to the announcement, the permanent closures are the result of the COVID-19 epidemic and the financial effects that followed.
The only GLH clinic outside Greenwood still in operation is the Itta Bena Clinic, which provides family medicine services.
Nurse Practitioners will continue to provide prescription refills for clinic patients until July 31. Patients are being advised to transfer their medical care to other providers as soon as possible.
The original motive for running these satellite clinics was to provide patient referrals to the Hospital for major procedures and surgery, thereby capturing that future patient revenue stream.
For complete coverage of these and other hospital milestones, please go here: Taxpayers Channel coverage of Greenwood Leflore Hospital's downfall.

John Pittman Hey
The Taxpayers Channel

News Flash Archive