Saturday, August 22, 2015, 5:30 pm News Flash Archive
All day today, over a dozen local citizens held a rally in support of the Mississippi State Flag at the flagpole on the lawn of the Leflore County Courthouse.
Their rally was in response to the Board of Supervisors and the Greenwood City Council both voting in the past two weeks to remove the state flag from all county and city buildings.
Around 10 o'clock in the morning, a man wearing a ski mask to protect his identity drove up to the courthouse square, exited his vehicle, and proceeded to hoist the state flag on the courthouse flagpole. He then left the scene, but the flag stayed flying for over five hours.
The Taxpayers Channel obtained these photographs of the proceedings.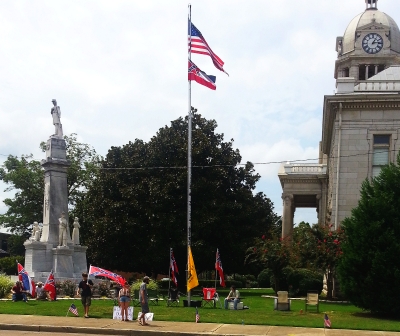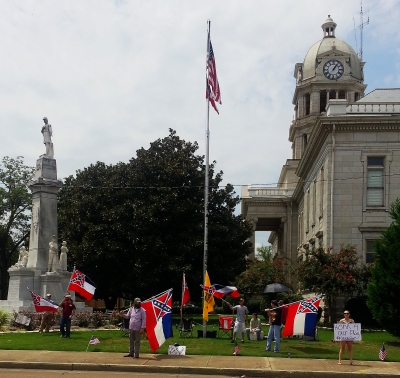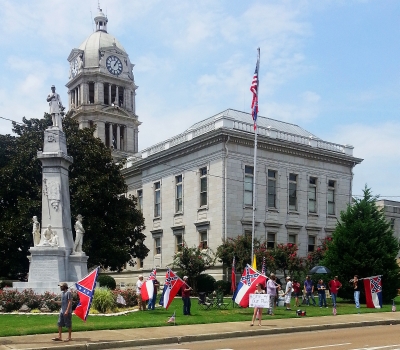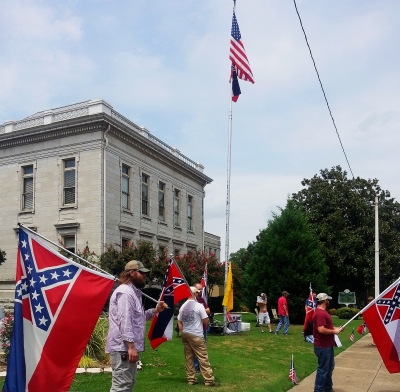 Organizer Steve Miller told The Taxpayers Channel that they were getting a few criticisms from passers-by, but that most people were indicating their support with honks and waves at the rally participants.
At around 3 pm, Supervisor Robert Moore stood across the street from the rally, objecting to the state flag flying above the courthouse. About 30 minutes later, members of the Leflore County Sheriff's department came and took the state flag back down again.
As of 5 pm, rally participants were still displaying the state flag around the flagpole and receiving support from those who passed by.

John Pittman Hey
The Taxpayers Channel

News Flash Archive