Friday, August 13, 2021, 3:00 pm News Flash Archive
The official 2020 Census population figures published by the United States Census Bureau show that the city of Greenwood has lost 9.9% of its population since April 2010, the date of the previous census.
The Census Bureau counted 14,490 people living in Greenwood as of April 2020, down from 16,087 in 2010.
Greenwood's official census population was last this low in 1930, when 11,123 people were counted.
Greenwood's peak census population was taken in 1970 at 22,400 persons.
Overall, the population of the state of Mississippi dropped by 0.2% since 2010.
The official census figures for Greenwood and selected surrounding towns and cities are set forth below: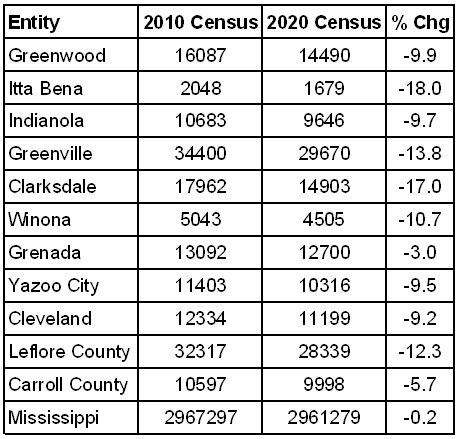 Leflore County shrank at a rate of 12.3% during the same 10 year period.
The 2020 Census data for all Mississippi towns may be downloaded here: 2020 Census Populations for Mississippi Towns and Cities
As previously reported by The Taxpayers Channel, Official census numbers will vary up or down compared to "Population Estimates" which are issued by the Census Bureau on an annual basis.
In addition, the original 2010 Census population for Greenwood was found to be in error, and was officially corrected to the figure shown above. See our report here: Census Bureau quietly revises Greenwood 2010 census numbers up 5.8%

John Pittman Hey
The Taxpayers Channel

News Flash Archive